Global Logistics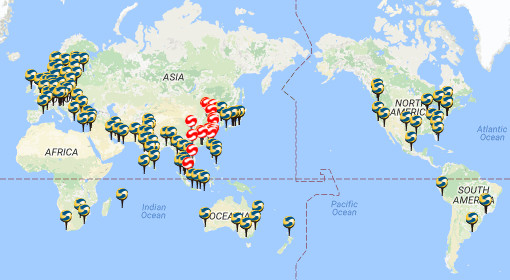 • Total Solutions
Teng Tai has a complete and professional international team, to provide your goods flow, information flow, financial flow and other best process planning, to achieve lower costs and improve efficiency goals.

• Third Party and Third Party Logictics Provider
Denton is the best third party and fourth party logistics partner, with professional skills and ability to solve the logistics needs of both buyers and sellers, and by the manufacturers and excellent business support, complete many successful projects, and accumulated experience At the same time, Deng Tai integrated third - party and fourth - party logistics resources to complete the supply chain integration, the use of information and network technology to help enterprises process reengineering, creating the value of upstream and downstream industry chain.

• Supply Chain Management
To sea, land and air advantages, with the flow of business, financial flow, information flow and physical flow to conduct a comprehensive integration.
Adhere to the "logistics services as a means of supply chain management optimization as the goal" concept.
Can adjust the rapid response to market changes, and strategic partnership alliance to cooperate to enhance the overall efficiency of alliance partners to create the greatest benefits.

• Supplier Stock Management
The use of global network resources, excellent logistics center management capabilities and technology, to reduce your inventory, improve inventory operation rate, to maintain the optimization of inventory, while suppliers and wholesalers to share information, both sides to improve demand forecast, replenishment Plans, promotion management and transport loading plans, etc., tailored for your comprehensive efficiency of the supplier inventory management system.

• warehousing, bonded warehouses, distribution centers, packaging, foundry, maintenance, transportation, customs declaration, return service (Warehousing Services)
In the main area and partners with logistics for warehouses, bonded warehouses, according to your type of goods, the nature of demand and shipments planning and distribution, can be implemented in the warehouse packaging, OEM, easy maintenance, Inspection, packaging and other operations, professional customs officers, to provide fast customs clearance and insurance services, and with a complete fleet network, to achieve rapid and efficient delivery to complete the task of customer delivery.

• Sea, land, air, iron, composite delivery
According to the geographical conditions, adjust the sea, land, air, iron transport mode, optimize the delivery parameters, reduce costs, and quickly achieve the task.

• Customerized Services
1. Conduct customer interviews to understand the needs of - by the professional business, financial, senior OP, customer service staff, information staff, senior executives set up service team.
2. Make SOP process execution - strictly control the various processes.
3. Find the problem and improve.


• High-speed logistics information systems (Logistics Information Systems)
1. Electronic booking system
2. Cargo tracking system

• Merged Cargo
Tengtai international logistics and partners, in the world more than 500 points to provide sea and air transport and loading services.
Such as: Hong Kong, Dongguan, Shenzhen, Foshan, Foshan, Xiamen, Shenzhen, Shanghai, Kunshan, Nanjing, Tianjin, Qingdao, Dalian, Dubai, Colombo, South Africa, Japan, Korea, Indonesia, Vietnam, Singapore, Philippines, Thailand , The United States, Canada, Australia, New Zealand, Europe ... and so on.