Sea, Air and Land Transportation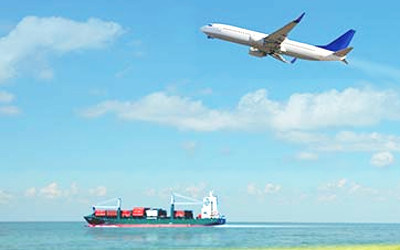 Sea, Air, and Land Freight Logistics

A. Global Port and Installed Network
Draco Logistics Co., Ltd. has several branches and agency partners worldwide, a network with more than 300 service sites on different regions, including sea and air transportation, via express and warehousing logistics, which located at Hong Kong, Dongguan, Shenzhen, Xiamen, Futian, Shanghai, Kunshan, Wujiang, Tianjin, Qingdao, Dalian, Jakarta, Singapore, Port Klang, Ho Chi Minh, Bangkok, Manila, Colombo, Dubai, Tokyo, Yokohama, Busan , Johannesburg, Rotterdam, Hamburg, Antwerp, Lehman, Fleischer, Ahaas, Copenhagen, Gothenburg, Los Angeles, San Francisco, Seattle, Chicago, New York, Miami, Toronto, Montréal and other ports.


B. Competitive Freight
Draco Logistics Co., Ltd. is in close cooperation with the world's leading shipping companies and airlines to provide competitive freight, and diversified service options.

Draco provides one stop competitive freight services from end-to-end destination of goods, including customs clearance, road transport, air transport, shipping, etc. that customer could delegate their cargo to Draco to process. Can be in any place to obtain the third tariff. Increased customer competitiveness in volume.

C. Triangular Trade
In response to rapid changing trading market, Draco can handle off-site shipping, receipt, billing, payment, collection, goods, inspection and other operations. One of the significant features of the services is that Draco can be business agent, so it's not required for customer to set up their own offices and trading company. It becomes easier to delegate to Draco on behalf of the operation.

D. Customer Project
1. Interview to understand customer needs.
2. Set up a service team by the professional sales, financial, senior OP, customer service, IT staff, senior executives.
3. Create SOP and execute.
4. Know your needs and take the initiative to actively track the process.
5. Find the problem and improve.


E. Warehousing & Logistics, Customs Clearance, Insurance and Distribution Services
Draco cooperates strategically with local professional customs agents in Taiwan, mainland China, Europe, Asia and the United States to provide customs clearance services.



The Scope of Services Includes:
1. Sea freight, air freight import and export declarations.
2. Bonded cargo, transit cargo declaration.
3. Distribution: Whether it is dedicated truck delivery or multiple delivery within a day, Draco can meet the needs of customization.

• Electronic booking system
• Cargo tracking system
• FCL (Full Container Load) and LCL (Less than container load)  shipment

F. Door-to-door service
Our alliance and global network companies provide consistent operations at all stages, your goods will be safe and secure to reach the hands of customers.

Door to door transport services integrates companies transporting truck, customs business, sea and air transport, shipping, and warehousing logistics and distribution. It's team-working tightly.
1. To ensure the safety of goods and immediately arrived at the destination.
2. Strict transport process control system, can avoid additional costs to customers.
3. Quote quickly, the price is very competitive.